Text on Printed Panorama:
Indianapolis Colts
This panorama spotlights the Indianapolis Colts taking on the Detroit Lions at Lucas Oil Stadium. Due to their loyal fans, the Colts have an impressive attendance streak with consecutive sellouts dating back to September 21, 2003. The Colts have a remarkable number of achievements that include winning at least seven consecutive games in six consecutive seasons, beginning consecutive seasons with 9-0 records, starting a season 14-0 and recording the most regular season victories in a decade (115). Lucas Oil Stadium has been the club's home since 2008 and features a retractable roof that opens in only nine minutes.
Show your team spirit with a Blakeway Panoramas game-day print. Our state-of-the-art cameras capture amazing high definition photos from carefully researched vantage points inside the stadiums and arenas that are so clear and life-like, you'll feel like you were there. These officially licensed, Made in the USA, large panoramic prints proclaim your allegiance to your team while creating a focal point in the home, office or fan cave. They also make the perfect gift for the sports fan in your life.
To take that home, office or fan cave décor from ordinary to extraordinary, check out our affordable framing options. We buy our framing supplies in bulk and pass that savings on to you, so our prices are almost always lower than frame shops. It's the perfect way to celebrate your team while extending the life of your Blakeway Panoramas print and showcasing your fandom for all to see.
---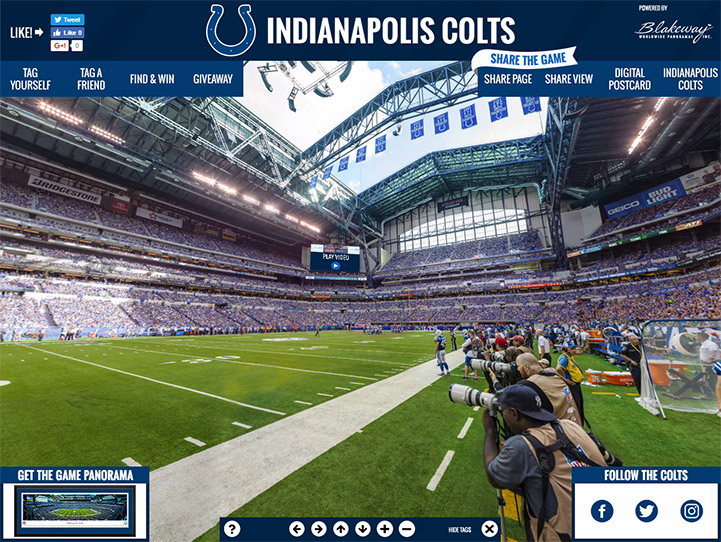 Indianapolis Colts Gigapixel Fan Photo
This 360° interactive fan photo captures the views from Lucas Oil Stadium during the Indianapolis Colts vs. Detroit Lions game on September 11, 2016.
Were you at this game? Visit our 360° fan photo and see if you can find yourself!
View Gigapixel
View Other Events
The Print
Our panoramic prints begin as a high definition photo that is printed on heavy art stock paper to resist waviness and warping due to heat and humidity and then topped with a UV resistant coating to minimize fading. The prints are available as an unframed poster or professionally framed in 3 different frame styles. Our panoramic posters measure 40" wide x 13.5" tall, which is typically not a stocked frame size, so you may want to consider purchasing it framed from us to avoid the time and expense of custom framing.
---
Professionally Framed
Framing not only extends the life of your print, it showcases your fandom for all to see. If you compare our prices with those of a custom frame shop, you'll find we are very competitive and often times lower as we buy our frame materials in bulk and pass that savings on to you. When framing we consider that the product will have to endure the rigors of shipping and use only high quality moulding and tempered glass (like a car window) which doesn't scratch or have large jagged edges when broken.
---
Frame Details
Standard Frame - 40 1/4" wide x 13 3/4" tall: The frame moulding is a rounded glossy black 3/8" aluminum. Ready-to-hang with attached picture wire.
Select Frame - 42" wide x 15 1/2" tall: The print has a mat in the team's primary color. The frame moulding is a 1 1/8" wide flat profile polystyrene. Ready-to-hang with two sawtooth hangers.
Deluxe Frame - 44" wide x 18" tall: The print has a border in the team's secondary color and a bevel-cut mat in the team's primary color. The frame moulding is a 1 1/8" wide contoured aluminum. Ready-to-hang with attached picture wire.
---
Officially Licensed
All sports panoramas are officially licensed, which means we've passed strict requirements for quality and ethics.
We pay royalties that support scholarships and initiatives at the universities and professional leagues.
We follow official team style guides, which means our logos and mat colors match those specified by the team or university. The panorama will match your jersey and fan cave decor.
Our production has been audited and certified to pass fair labor standards. All our products are printed and framed in the USA.
Our oversized panoramic prints are all photo. There is no title, text, borders or logos, just the image. If you want to feel like you are actually in the stadium, these are the prints for you. If you want to boldly proclaim your fandom and leave no doubt as to which team you support, these panoramas are for you. At 63" wide and 21" tall, these oversized panoramas cover some serious wall space and provide a striking focal point for your home, office or fan cave.
Our oversized panoramas are available in two formats: canvas and aluminum. Each is shipped ready to hang and are suggested to be used as indoor decor only. No framing is required as each is equipped with a rear-mounted frame. Please note that all oversized panoramas are made-to-order. Please allow 3 business days for processing and production prior to shipping.
---
Canvas
Our museum quality canvases are crafted out of materials designed to last a lifetime. The photo is printed directly on to high-quality archival canvas with UV-resistant solvent ink and then stretched over a 1 1/2" thick, kiln dried pine wood frame. This is a Gallery Wrapped Canvas that is designed to be displayed without a frame. It looks finished from any angle as the image wraps around the edge of the frame and is stapled on back so no staples or unprinted edges can be seen.
Dimensions: 63" wide x 21" tall x 1 1/2" depth
Care: To clean, gently dust with a soft dry cloth.
---
Metal
Metal artwork is becoming exceptionally popular thanks to its durability and stunning detail. With metal prints, the photo is printed directly to .04" thick aluminum using archival quality, UV resistant, heat cured inks in a high-definition printing system. This aluminum artwork is then applied to a thin Zebra Board for stiffness and durability and attached to a black 1 1/4" thick rear-mounted frame that is flush with the edge of the metal print.
Dimensions: 63" wide x 21" tall x 1 1/4" depth
Finish: Satin
Care: To clean, gently dust with a soft dry cloth.
1 Review
We absolutely love this framed picture!