Text on Printed Panorama:
New York, New York - Times Square
This panorama of Times Square was taken by James Blakeway. In 1904, long before the showcase of neon lights and digital big-screen technology, the area named Longacre Square, located at the junction of Broadway and 7th Avenue, stretching from West 42nd to West 47th Streets, was renamed Times Square. Fast forward 100-plus years and, today, Time Square is a symbol of the American spirit and a popular tourist destination. It is one of the world's busiest pedestrian intersections and a cultural mecca of entertainment. It is here that the New Year's Eve ball is dropped and the ever-changing NASDAQ sign reports the fortunes and misfortunes of a nation.
Let us show you the world as you've never seen before. Our photographers capture astounding panoramic views that will amaze and awe. If a picture paints a thousand words, these large panoramic photos speak volumes. The vivid detail in our prints will inspire you to seek the beauty of our national parks, experience the vitality of breathtaking cities, treasure the wonder of iconic landmarks and appreciate the tranquility of a lighthouse on a scenic shoreline.
All Blakeway Panoramas are proudly Made in the USA. To extend the life of your Blakeway Panoramas print, please consider our affordable framing options. We purchase framing supplies in bulk and pass those savings on to you, so our prices are almost always lower than frame shops. Framing is the perfect way to showcase your hometown, vacation or bucket list destination panorama.
---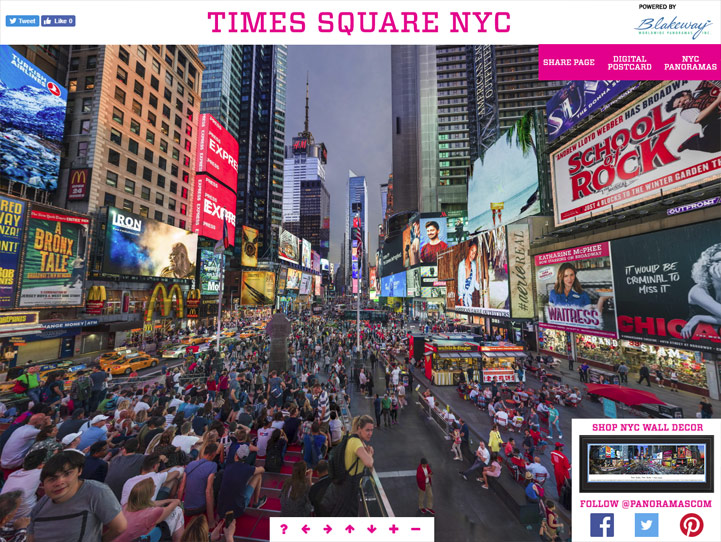 Our panoramic prints begin as a high definition photo that is printed with UV resistant ink on heavy art stock. These are available unframed or in 3 frame styles. Before framing, we mount it and secure the panoramic print to a backer board to prevent waviness and warping due to heat and humidity. If you choose a select or deluxe frame with matting, the mats used are pH neutral to protect against degradation of the photo and the colors used match the team or school style guides.
| | | | | |
| --- | --- | --- | --- | --- |
| Format | Unframed | Standard Frame | Select Frame | Deluxe Frame |
| Width | 40 inches | 40.25 inches | 42 inches | 44 inches |
| Height | 13.5 inches | 13.75 inches | 15.5 inches | 18 inches |
| Glass | None | Tempered | Tempered | Tempered |
| Mat | None | None | Single Mat with Beveled Edge (in team's primary color if applicable) | Double Mat with Beveled Edge (in team's colors if applicable) |
| Frame Moulding | None | 0.375 inches wide | 1.25 inches wide | 1.25 inches wide |
| Moulding Material | None | Aluminum | Wood Composite (resists heat & humidity better than solid wood) | Aluminum |
| Finish Application | None | Spray Coating (harder finish than conventional paint) | Vinyl Wrapped | Powder Coating (harder finish than conventional paint) |
| Moulding Finish | None | Glossy Black Finish | Flat Black Finish | Flat Black Finish |
| Moulding Profile | None | Rounded | Flat | Sculpted |
| Hanging Method | None | Attached Picture Wire | Sawtooth Hangers | Attached Picture Wire |
| Price | $29.95 - $34.95 | $99.95 - $119.95 | $149.95 - $169.95 | $199.95 - $219.95 |
Unframed
Width: 40 inches
Height: 13.5 inches
Glass: None
Mat: None
Frame Moulding: None
Moulding Material: None
Finish Application: None
Moulding Finish: None
Moulding Profile: None
Hanging Method: None
Price: $29.95 - $34.95
Standard Frame
Width: 40.25 inches
Height: 13.75 inches
Glass: Tempered
Mat: None
Frame Moulding: 0.375 inches wide
Moulding Material: Aluminum
Finish Application: Spray Coating (harder finish than conventional paint)
Moulding Finish: Glossy Black Finish
Moulding Profile: Rounded
Hanging Method: Attached Picture Wire
Price: $99.95 - $119.95
Select Frame
Width: 42 inches
Height: 15.5 inches
Glass: Tempered
Mat: Single Mat with Beveled Edge (in team's primary color if applicable)
Frame Moulding: 1.25 inches wide
Moulding Material: Wood Composite (resists heat & humidity better than solid wood)
Finish Application: Vinyl Wrapped
Moulding Finish: Flat Black Finish
Moulding Profile: Flat
Hanging Method: Sawtooth Hangers
Price: $149.95 - $169.95
Deluxe Frame
Width: 44 inches
Height: 18 inches
Glass: Tempered
Mat: Double Mat with Beveled Edge (in team's colors if applicable)
Frame Moulding: 1.25 inches wide
Moulding Material: Aluminum
Finish Application: Powder Coating (harder finish than conventional paint)
Moulding Finish: Flat Black Finish
Moulding Profile: Sculpted
Hanging Method: Attached Picture Wire
Price: $199.95 - $219.95