Text on Printed Panorama:
2017 Football National Champions - January 8, 2018 - Alabama® 26 - Georgia® 23
Winners of this year's College Football Playoff™ Semifinal Games, the Alabama Crimson Tide® and the Georgia Bulldogs®, took to the field for the College Football National Championship. Celebration erupted with this dramatic overtime victory as the Crimson Tide secured its fifth title in nine years under coach Nick Saban, who has now tied Bear Bryant for the most titles (six) in history for a college head coach. This also marks the SEC's ninth championship in the last 12 seasons, proving once again it is the premier place to play college football.
Show your team spirit with a Blakeway Panoramas game-day print. Our state-of-the-art cameras capture amazing high definition photos from carefully researched vantage points inside the stadiums and arenas that are so clear and life-like, you'll feel like you were there. These officially licensed, Made in the USA, large panoramic prints proclaim your allegiance to your team while creating a focal point in the home, office or fan cave. They also make the perfect gift for the sports fan in your life.
To take that home, office or fan cave décor from ordinary to extraordinary, check out our affordable framing options. We buy our framing supplies in bulk and pass that savings on to you, so our prices are almost always lower than frame shops. It's the perfect way to celebrate your team while extending the life of your Blakeway Panoramas print and showcasing your fandom for all to see.
---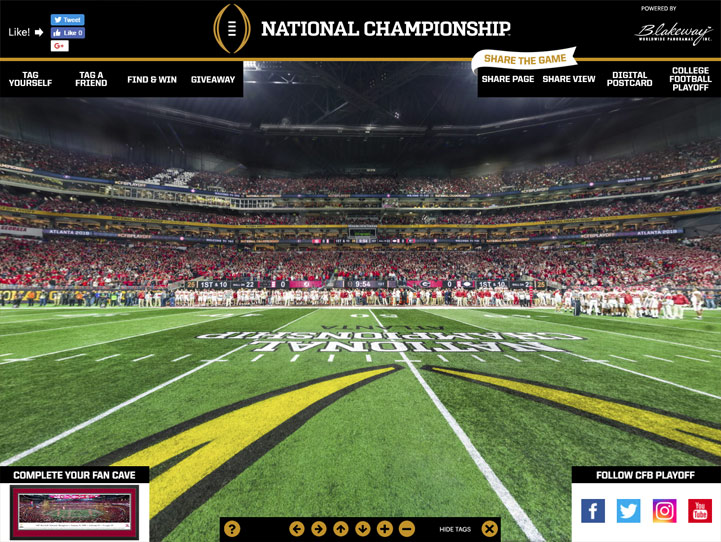 2018 CFP National Championship Gigapixel Fan Photo
Were you at this game? Visit our 360° fan photo and see if you can find yourself!
View Gigapixel
View Other Events
Our panoramic prints begin as a high definition photo that is printed with UV resistant ink on heavy art stock. These are available unframed or in 3 frame styles. Before framing, we mount it and secure the panoramic print to a backer board to prevent waviness and warping due to heat and humidity. If you choose a select or deluxe frame with matting, the mats used are pH neutral to protect against degradation of the photo and the colors used match the team or school style guides.
| | | | | |
| --- | --- | --- | --- | --- |
| Format | Unframed | Standard Frame | Select Frame | Deluxe Frame |
| Width | 40 inches | 40.25 inches | 42 inches | 44 inches |
| Height | 13.5 inches | 13.75 inches | 15.5 inches | 18 inches |
| Glass | None | Tempered | Tempered | Tempered |
| Mat | None | None | Single Mat with Beveled Edge (in team's primary color if applicable) | Double Mat with Beveled Edge (in team's colors if applicable) |
| Frame Moulding | None | 0.375 inches wide | 1.25 inches wide | 1.25 inches wide |
| Moulding Material | None | Aluminum | Wood Composite (resists heat & humidity better than solid wood) | Aluminum |
| Finish Application | None | Spray Coating (harder finish than conventional paint) | Vinyl Wrapped | Powder Coating (harder finish than conventional paint) |
| Moulding Finish | None | Glossy Black Finish | Flat Black Finish | Flat Black Finish |
| Moulding Profile | None | Rounded | Flat | Sculpted |
| Hanging Method | None | Attached Picture Wire | Sawtooth Hangers | Attached Picture Wire |
| Price | $29.95 - $34.95 | $99.95 - $119.95 | $149.95 - $169.95 | $199.95 - $219.95 |
Unframed
Width: 40 inches
Height: 13.5 inches
Glass: None
Mat: None
Frame Moulding: None
Moulding Material: None
Finish Application: None
Moulding Finish: None
Moulding Profile: None
Hanging Method: None
Price: $29.95 - $34.95
Standard Frame
Width: 40.25 inches
Height: 13.75 inches
Glass: Tempered
Mat: None
Frame Moulding: 0.375 inches wide
Moulding Material: Aluminum
Finish Application: Spray Coating (harder finish than conventional paint)
Moulding Finish: Glossy Black Finish
Moulding Profile: Rounded
Hanging Method: Attached Picture Wire
Price: $99.95 - $119.95
Select Frame
Width: 42 inches
Height: 15.5 inches
Glass: Tempered
Mat: Single Mat with Beveled Edge (in team's primary color if applicable)
Frame Moulding: 1.25 inches wide
Moulding Material: Wood Composite (resists heat & humidity better than solid wood)
Finish Application: Vinyl Wrapped
Moulding Finish: Flat Black Finish
Moulding Profile: Flat
Hanging Method: Sawtooth Hangers
Price: $149.95 - $169.95
Deluxe Frame
Width: 44 inches
Height: 18 inches
Glass: Tempered
Mat: Double Mat with Beveled Edge (in team's colors if applicable)
Frame Moulding: 1.25 inches wide
Moulding Material: Aluminum
Finish Application: Powder Coating (harder finish than conventional paint)
Moulding Finish: Flat Black Finish
Moulding Profile: Sculpted
Hanging Method: Attached Picture Wire
Price: $199.95 - $219.95