Click to jump to more info on:
Contact Info
How can I contact you?
By Phone/Fax
Customer Service Hours: Monday - Friday, 8:00 AM - 5:00 PM CST
Phone: 1-800-334-7266 or 952-941-9797
Fax: 952-941-9798
By Mail
Blakeway Panoramas
5451 Smetana Drive
Minnetonka, MN 55343 USA
Ordering
How do I place an order?
Orders can be placed online via our website.
Purchases can also be completed by calling us at 1-800-334-7266 or 952-941-9797, Monday - Friday, 8:00 AM - 5:00 PM CST.
---
What payment methods do you accept?
We accept all major credit cards, including Visa, Mastercard, American Express, and Discover. We also accept Apple Pay and Amazon Pay.
---
Can I cancel my order?
To cancel your order that has not yet shipped, please contact us at 1-800-334-7266 or 952-941-9797.
We are unable to cancel orders that have already been shipped. In this case, please contact us for other options, like processing a return.
---
What products are available?
Browsing our online store is the easiest way to see what products are available. The navigation menu at the top of every page lists our product categories, and is further defined by location, team, or venue name.
You may also use the search function to find specific panoramic views by name, sport, SKU, description, location, and more.
If you have difficulty finding products you want to purchase, please contact us at 1-800-334-7266, 952-941-9797, or info@panoramas.com.
---
How do I share my Wish List?
To share your Wish List, visit the Wish List page when logged into your account.
If a share button is not visible by your Wish List, click its Edit button, then toggle the Share Wish List option on. Click to Save Wish List.
Click the Share button for the Wish List you want to share with others. A link will be generated you may send to others.
Shipping & Delivery
How can I track my order?
When your order has been packed and processed for shipment, you will receive a confirmation email with your tracking number.
---
What is the shipping cost?
Shipping fees vary based on the quantity, frame style(s) chosen, shipping destination, and speed of delivery needed. Our website provides a shipping cost estimate prior to placing your order.
---
Do you ship internationally?
We currently do not allow international shipping through our website. Please call us at 952-941-9797 or email info@panoramas.com to discuss international shipping options.
We will ship unframed panoramas of skylines, National Parks, and world icons to most countries internationally. NHL prints can also be shipped to Canada. Our licensing contracts restrict the sales of NFL, NASCAR, and collegiate products to within the United States only.
International shipping rates, taxes and duties for framed panoramas are expensive. We recommend you purchase an unframed print and have it framed locally.
Returns
What is your return policy?
Blakeway Prints or Frames
If for any reason you are not completely satisfied with your purchase, you may return it for a free replacement or a full refund for the price of the product within 30 days of purchase. We are unable to refund shipping charges.
To start the return process, please call us at 1-800-334-7266 or 952-941-9797.
Oversized Panoramas
All oversized canvas and metal panoramas are made to order and are not returnable.
Coupons & Promotions
Current Promotion Details
Join our fan club and you'll be emailed a welcome coupon code as well as promotional notifications and new panorama announcements for your favorite team or destinations. To join, simply click here.
The Blakeway Fan Club coupon code is limited to one use per customer. Some exceptions may apply (for example, if trying to apply multiple discounts to your cart). Additional promotional offers for holidays or other events will be sent to the email you provided.
---
Can I use multiple coupons?
Our site only permits the use of one coupon code per order.
---
Is there a volume discount?
Love our products or looking for great gifts? With your purchase of 4 or more products, a 10% discount will automatically be applied to your cart total. Some exceptions may apply (for example, if trying to apply multiple discounts to your cart).
Product Info
What products do you sell?
Panoramic Prints & Frames

Our panoramas begin as a high definition photo that is printed with UV resistant ink on heavy art stock. The panoramas are available unframed or in 3 frame styles.
Before framing, we mount and secure the panoramic print to a backer board to prevent waviness and warping due to heat and humidity. If you choose a Select or Deluxe Frame with matting, the mats used are pH neutral to protect against degradation of the photo and the colors used match the team or school style guides.
Unframed
Width: 40 inches
Height: 13.5 inches
Glass: None
Mat: None
Moulding Finish: None
Hanging Method: None
Price: $34.95 - $39.95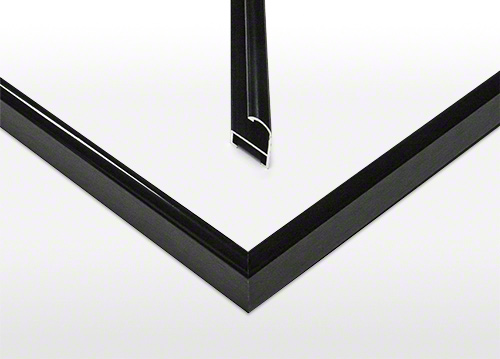 Standard Frame
Width: 40.25 inches
Height: 13.75 inches
Glass: Tempered
Mat: None
Moulding Finish: Glossy Black Finish
Hanging Method: Attached Picture Wire
Price: $119.95 - $139.95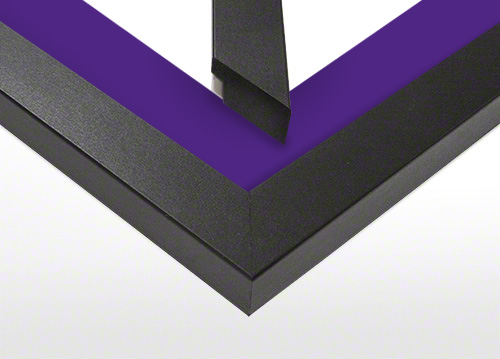 Select Frame
Width: 42 inches
Height: 15.5 inches
Glass: Tempered
Mat: Single Mat with Beveled Edge (in team's primary color if applicable)
Moulding Finish: Flat Black Finish
Hanging Method: Sawtooth Hangers
Price: $169.95 - $189.95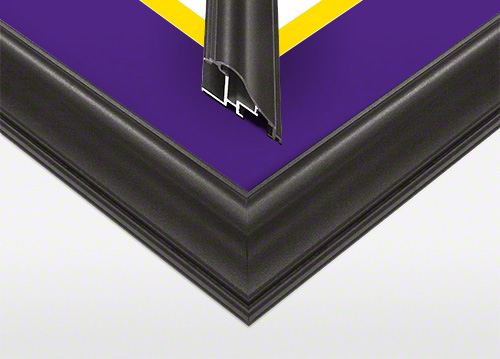 Deluxe Frame
Width: 44 inches
Height: 18 inches
Glass: Tempered
Mat: Double Mat with Beveled Edge (in team's colors if applicable)
Moulding Finish: Flat Black Finish
Hanging Method: Attached Picture Wire
Price: $219.95 - $239.95
A framed Blakeway Panorama is BIG and BEAUTIFUL. If you compare our prices with those of a professional frame shop, you'll find we are very competitive and often times lower as we buy our frame materials in bulk and pass that savings on to you.
Our panoramas are 40" wide x 13.5" tall, which is usually not a standard stocked frame size. If you add a mat or two (which takes it from nice to wow to AWESOME), then a custom frame is the only option. A framed panorama from us also means:
The print is mounted and secured to a display board to eliminate waviness and warping of the print inside the frame.
The mat boards are pH neutral and lignin free to protect against degradation of the artwork.
Only tempered glass is used for durability and safety - no acrylic or plexiglass (which can scratch easily) or standard glass (which can leave a sharp, jagged edge if broken).
All frames come equipped with picture wire or sawtooth hangers, so they are ready to hang directly from the box.
All sports panoramas are officially licensed, which means we've passed strict requirements for quality and ethics.

We pay royalties that support scholarships and initiatives at the universities and professional leagues. Unethical people may copy us (illegal & inferior), sell for less (unscrupulous), and skip paying royalties that would otherwise support your alma mater or team.
We follow official team style guides, which means our logos and mat colors match those specified by the team or university. The panorama will match your jersey and fan cave decor!
All of our production has been audited and certified to pass fair labor standards (no sweatshops for us, although when we had a power outage one Summer it got a little steamy without air conditioning that day).
Most importantly, if you order a framed panorama from us, you save time. You don't need to deliver and pick up from a frame shop, and you don't need to wait days or weeks for it to be framed. We ship next day so your panorama arrives completely framed and ready to hang. That's almost instant gratification!
---
Oversized Panoramas
Our oversized panoramic prints are all photo. There is no title, text, borders or logos, just the image. If you want to feel like you are actually in the stadium, these are the prints for you. If you want to boldly proclaim your fandom and leave no doubt as to which team you support, these panoramas are for you. At 63" wide and 21" tall, these oversized panoramas cover some serious wall space and provide a striking focal point for your home, office or fan cave.
Our oversized panoramas are available in two formats: canvas and metal. Each is shipped ready to hang and are suggested to be used as indoor decor only. No framing is required as each is equipped with a rear-mounted frame.
Please note that all oversized panoramas are made-to-order. Please allow 3 business days for processing and production prior to shipping.
Canvas
Our museum quality canvases are crafted out of materials designed to last a lifetime. The photo is printed directly on to high-quality archival canvas with UV-resistant solvent ink and then stretched over a 1.5-inch thick, kiln dried pine wood frame. This is a gallery wrapped canvas that is designed to be displayed without a frame. It looks finished from any angle as the image wraps around the edge of the frame and is stapled on back so no staples or unprinted edges can be seen.
Width: 63 inches
Height: 21 inches
Depth: 1.5 inches
Care: To clean, gently dust with a soft dry cloth.
Metal
Metal artwork is becoming exceptionally popular thanks to its durability and stunning detail. With metal prints, the photo is printed directly to .04" thick aluminum using archival quality, UV resistant, heat cured inks in a high-definition printing system. This aluminum artwork is then applied to a thin Zebra Board for stiffness and durability and attached to a black 1.25" thick rear-mounted frame that is flush with the edge of the metal print.
Width: 63 inches
Height: 21 inches
Depth: 1.25 inches
Finish: Satin
Care: To clean, gently dust with a soft dry cloth.
Frame Info
How can I get my print framed?
Do you wish you would have ordered that panorama framed? It's not too late - we can frame it for you.
Our framing service includes mounting your print to prevent any waviness that may occur over time due to heat or humidity, professionally framing with a durable moulding, and tempered glass that resists scratching.
To frame your panorama:
Preview how your framed panorama will look by locating your print on our website.
Visit our Frame Upgrade page, select the frame you want, add to cart, and check out.
Mail your panoramic print back to us.
Place your panorama and contact information in the tube or box.
Securely close the package, using packing tape on all sides (including plastic end caps if using a tube).
Mail your unframed panorama back to us at:
Blakeway Panoramas
Attn: Frame Upgrade
5451 Smetana Drive
Minnetonka, MN 55343
We are normally able to frame and ship your panorama within 1-2 days of receipt.
---
Why can't you ship an empty frame?
We have the expertise and equipment to mount the panorama to a backer board so that it stays smooth and fabulous.
If you just slid the panorama in a frame, the heat and humidity could cause the print to wave or curl and not lay flat. Common glue or tape can discolor the photo, and you wouldn't want that.
If you ordered the Select or Deluxe Frame, we carefully center the panorama within the mat opening and secure the mat so it won't slip. Finally, we frame it and add picture wire or sawtooth hangers so it's ready to hang when you receive it.
---
Why do I need to send my unframed print back?
We need something to put in the frame. An empty frame is not as interesting as one filled with a Blakeway print.
---
What is the cost to upgrade to a framed panorama?
Standard Frame Upgrade
The cost to upgrade an unframed print to a Standard Frame is $85.00, not including shipping or sales tax that may apply.
Select Frame Upgrade
The cost to upgrade an unframed print to a Select Frame is $135.00, not including shipping or sales tax that may apply.
Deluxe Frame Upgrade
The cost to upgrade an unframed print to a Deluxe Frame is $185.00, not including shipping or sales tax that may apply.
Image Use
Can I use your images?
All Blakeway Panoramic images are copyrighted. © Blakeway Panoramas, Inc., Minneapolis, MN U.S.A. Use and distribution of all or any part of an image is strictly prohibited. Written permission to use our images must be obtained. Trademark and copyright infringement is a serious issue and we will protect our brand and images against unauthorized dealers and those who violate our copyrights and trademarks.
To obtain written permission, contact chris@panoramas.com or via the contact details below. Please include as many details as possible about the project. The fee is based on the use, so be as descriptive as possible.
Please ask for Chris.
1-800-334-7266 or 952-941-9797
Blakeway Panoramas
5451 Smetana Drive
Minnetonka, MN 55343 USA
chris@panoramas.com
Custom Prints
Can I get a custom print?
We can print our images at almost any size. Please allow ample lead time for licensed images, such as NFL, NHL, NASCAR, collegiate, etc. These are more complicated as they require permission from their governing agencies.
Our images are produced at a 4:1 ratio, so the proportions of your custom print need to remain 4:1 unless you are willing to crop some of the image from the left and/or right. For example: if you wanted a print 4 feet wide, it would therefore be 1 foot high. This refers to the image size only, and doesn't include the white border or text that our published prints have. In other words, custom prints can be printed with the image all the way to the edge of the paper.
---
What is the cost of a custom print?
The cost varies on a case-by-case basis depending on the size, format, and material used. We normally print thousands of our published prints at one time, which is more efficient and drives down costs.
Our use of large format panoramic equipment provides exceptional quality enlargements. Galleries often refer to these prints as a giclee ("zhee-klay"). The cost to do this is considerably more expensive due to the labor and materials involved in setting up a single print.
If you want a custom print much larger than our standard product, you may need to get it custom framed from a local frame shop. This can significantly add extra costs.